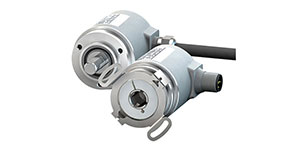 Turck announces an expansion of its encoder offering with the release of Compact Magnetic Absolute Multiturn Encoders.
Available in Analog, CANopen, and SSI output, these compact devices are ideal for OEM applications where space is limited, and where reliability and pricing are a factor. The cost-competitive nature of this product will also see it used in a wide range of general position applications.
"These are the first encoders from Turck with Energy Harvesting Technology," explained Marty Cwach, senior product manager for sensors. "No longer are there worries of battery life or mechanical gears to track revolutions in these magnetic multiturn devices. This is the next great step in providing our customers with an increasing portfolio of Turck encoder solutions."
Turck's compact magnetic absolute multiturn encoders come in a 39 mm diameter housing. The standard product line offers IP65/IP67 protection, while the Robust series includes IP66/IP67/IP69K ingress protection and 316 Stainless Steel materials. Both versions are able to withstand harsh environments with water and chemical spray, or even high shock areas.