WHAT IS AN EZ-track LIQUID LEVEL PROBE?
TURCK EZ-track R16 Liquid Level Probe
is a programmable, two-wire loop powered intrinsically safe probe that is ideal for continuous level monitoring in a variety of liquids and tank designs. The R16 sensor uses magnetostrictive technology to monitor the position of a magnetic float along the active stroke of the sensing tube, which is then converted into a configurable 4-20 mA output.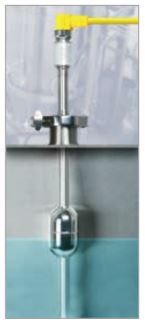 All of the electronics for the R16 sensor are incorporated within the 5/8 inch sensing rod, which eliminates the need for an electronics enclosure at the top of the sensor. This feature, when ordered with the standard 4-pin minifast® 7/8-16UN quick disconnect, offers greater mounting options, and a faster, more reliable installation.

WHY CHOOSE THE EZ-track LIQUID LEVEL PROBE?

• IP68 rated; available in a rigid 316 stainless steel housing or a flexible PVDF design.
• Probe lengths vary between 18 and 288 inches.
• A variety of floats, fittings and accessories are available to fit virtually any application requirement.
• A resolution of 0.02 inches of full scale, and an accuracy of 0.1% over the programmable monitoring span.

WHERE CAN I USE THE EZ-track LIQUID LEVEL PROBE?

• Because there are no parts to wear or break, the sensors offer better performance than competing technologies.
• The stainless steel version is also available in an optional Food Grade or 3A Rated Sanitary finish probe for use in an array of food service, dairy and beverage applications.

R16 Level Probe Part Number Key