Accurately determining temperature is one of the most important tasks in processing and manufacturing industries. Precision, reliability and interface flexibility are just some of the characteristics that make a great temperature sensor. TURCK's new TS400 and TS500 temperature sensor series provide all these traits and more, and adhere to the high standards consistent with all TURCK products.
TS400 and TS500 temperature sensors incorporate design elements that equate to real advantages in your applications. The TS400 and TS500 sensor series are platinum resistance temperature detectors (RTDs), commonly referred to as a Pt-100. Pt-100's are known to be highly precise, repeatable, and provide extremely short response times.
Pt-100's contain a platinum wire that is wrapped around a core or patterned as a thin film on a substrate so that it experiences minimal differential expansion or other strains. As the temperature changes, the controller measures the change in the electrical resistance of the platinum wire. Specifically, the hotter the wire becomes, the higher the value of electrical resistance. Pt-100 RTDs have a nominal resistance of 100 ohms at 0°C with an accuracy of 0.4°C at 50°C. The sensor's operating range varies from -50 to 500°C (-58 to 932°F).

Quality

TS400 and TS500 sensors were designed to handle harsh manufacturing environments.

• High immunity to electromagnetic interference
• Reliable and accurate
• Compact design
• Robust stainless steel housing
• IP 67 environmental protection to increase operational durability

User-Friendly

TS400 and TS500 sensors were designed with the user in mind.

• Simple push-button programming
• Recessed button stores selected values and helps prevent unintentional operational errors
• The entire display can be inverted electronically
• The TS500 version can be rotated 320 degrees
• Does not require regular maintenance calibration
• M12 eurofast connection promotes easy integration in existing applications

Flexible

TS400 and TS500 use state of the art technology to bring you a sensor that facilitates operational efficiency.

• Remote or direct mountable
• Compact, robust housing
• 4-pin M12 eurofast connection
• Compatible with 4-wire probes
• Displays output in °C, °F, K and ohms

Benefits

TS400 and TS500 temperature sensors allow you to realize immediate benefits in your application.

• May be implemented in nearly all factory or process automation applications
• Housing design permits sensors to be mounted directly next to each other or in restrictive places
• Large, bright LED display
• Versions with multiple outputs available; all are easy to program and use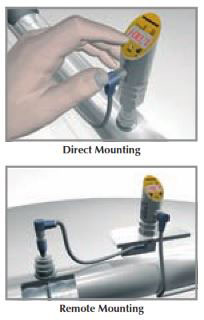 How to Order TS400 and TS500 Sensors and Accessories

1. Determine your desired output and select the TS model that meets your needs.
2. Select the appropriate probe for your application.
3. Choose remote or direct mounting.
a) For direct mounting with TP 203 and TP 206, order the stabilizer (STA-3 or STA-6).
b) For remote mounting, order a mating cordset (RK 4.4T-*-RS 4.4T).
4. Select a process connection.
a) For thermowells, order one length shorter than the length of probe you selected in step 2.
b) If no thermowell is selected, a compression fitting is needed for mounting the probe. (Note: The TP 104A does not require a process connection.)
* Length in meters.