TURCK SOLUTIONS FOR WELDING ENVIRONMENTS
Proximity Sensors in Welding Environments
are damaged and destroyed for a variety of reasons including molten metal slag from MIG/TIG welding, and weld spatter from resistance (spot) welding. To help our customers increase productivity in weld cells, TURCK designed and tested specialty sensors and cordsets to withstand the high heat and rigors associated with this harsh environment.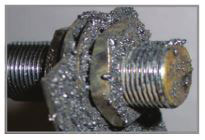 Weld slag and spatter are not the only factors that can harm your sensors in these locations. Sensors are exposed to physical damage caused by either physical impact or abrasion from the target that is being sensed. Continuously exerting this kind of stress on a sensor will cause its internal electronics to fault and/or its exterior to break, leading to replacement.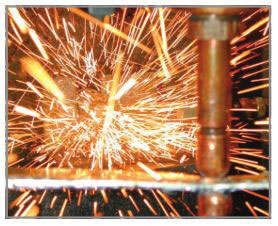 TURCK's solution protects the sensor from impact and abrasion, extending its service life exponentially.

Common proximity sensors are non-contact, meaning they do not need to touch the actual target to sense it. However, in many applications the physical target inadvertently does touch the sensor. Friction between the target rubbing against the sensor can cause the sensing face to wear and eventually lead to sensor failure. TURCK has a solution for this too.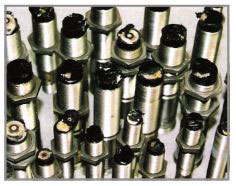 Above all, it is important to remember that every application is different, and no one solution will work to protect these components from every environmental hazard. TURCK's experienced engineers are eager to help you find the solution that is best for you. Simply call at 800-544-7769 and request to speak with an application engineer or visit TURCK website to find which of our 2,500 sales people is nearest you.

weldguard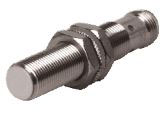 TURCK's weldguard sensors use a proprietary material on the sensing face that is:

• Independently tested to over 25,000 operations without failure
• Impervious to weld spatter that creates pitting, chipping and cracking caused by resistance welding
• Resistant to pitting, chipping and cracking caused by molten metal traveling at high velocity
• A superior replacement for any type of material used on a sensing face
• Able to withstand high heat
• Resistance Welding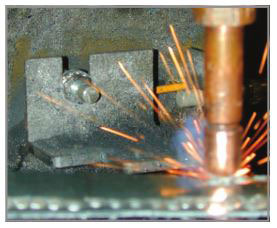 Over 25,000 operations without failure!


armorguard


TURCK's armorguard provides built-in durability that:

• Protects sensor face from impact
• Includes weldguard material on sensing face to resist weld slag
• Extends the life of the sensor dramatically
• Available in 8, 12, 18 or 30 mm barrel diameters, as well as cube style sensors
• IMPACT - Also protects against: Weld Slag and Abrasion

armorguard accessories

• TURCK's armorguard sleeves are available as an accessory to the sensor to protect the sensing face from lateral impact when not in a direct weld environment.


STAINLESS STEEL FRONT FACE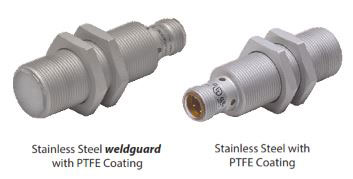 TURCK's heavy-duty stainless steel construction:

• Protects the barrel and internal electronics from damage due to impact
• Protects the sensing face from damage due to abrasion
• Available with PTFE or weldguard coating for protection against weld slag
• No areas of entry, preventing oils and lubricants from seeping into the sensor
• One piece stainless steel housing
• Ext range
• IMPACT - Also protects against: Abrasion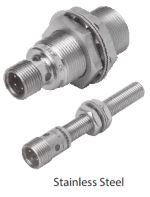 stoneface

TURCK's stoneface sensors use a glass filled thermoset plastic material on the sensing face that:

• Protects the sensing face from abrasion
• Is resistant to weld slag buildup that is often a result of MIG/TIG welding
• Is available with PTFE coated barrels to shed weld slag
• MIG WELDING - Also protects against: Weld Slag and Abrasion

SENSOR ACCESSORIES

A variety of accessories are available to help protect sensors from weld spatter and physical damage.

• Cushion mount accessory protects sensor when used as an end stop
• PTFE and ceramic caps protect the sensor face from weld spatter
• Weld Slag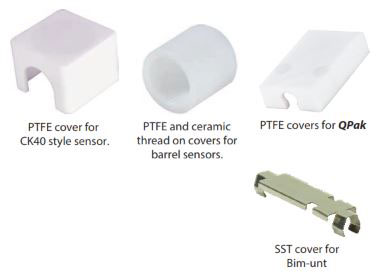 FLOW MONITORS FOR WELD TIP PROTECTION

Flow monitors are used in the welding industry to detect the loss of coolant to weld tips, preventing damage to equipment.

Digital Readout Flow/Temperature Monitors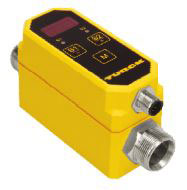 • Provides flow/no flow monitoring for water, water/glycol (0-70%) mixtures and Galden (HT110 and HT135)
• Inline, non-intrusive design
• Available with flow and temperature switchpoints, analog or relay outputs

Probe Style Flow Monitors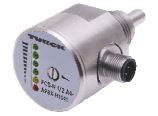 • Self contained
• Fits standard plumbing tees
• Stainless steel construction
• Compact design allows mounting near weld tip

Inert Gas Flow Monitors


• Verify presence of Argon, Helium and other MIG welding gases
• Verify ventilation system is working in fume hoods

PRESSURE SENSORS FOR WELD CELL MONITORING

High Accuracy Pressure Sensors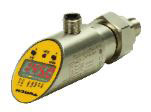 • Hydraulic system monitoring
• Pneumatic system monitoring
• Material handling
• Vacuum and positive pressure ranges available

WELD SLAG PROTECTION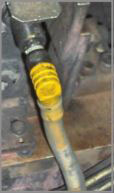 Depending on your application, you can choose from many different levels of protection. Plug body,
coupling nuts, accessories and cable jacket are all components of the cordset that can be altered to
provide weld slag protection.

PLUG BODY & COUPLING NUTS


TPE (Thermo-Plastic Elastomer) and PTFE Coating

• TPE used as mold material in cordset plug body
• Coupling nuts coated with PTFE
• Provide excellent resistance to weld-slag buildup

ACCESSORIES

Viton Coated Fiberglass Sleeving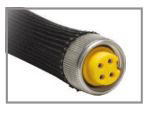 • Slides over the quick disconnect area
• Prevents accumulation of weld slag, dust and grease

Expandable Silicone Sleeving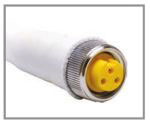 • Provides a 'heat shrink' like fit
• Protects cable, mold and coupling nut

Silicone Tubing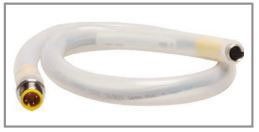 • Made of translucent rubber
• Assembled on cordsets end to end up to 4 meters!

Clear Weld Seal Tape


• Protects open areas between silicone tubing and mold body

Wrap Around Weld Shield Sleeving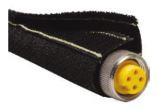 • Provides excellent resistance in welding environment
• Used in wide operating temperature range
• Rugged fiberglass material with hook and loop closure

CABLE JACKET

CPE (Chlorinated Polyethylene) Jacket Over EPDM Rubber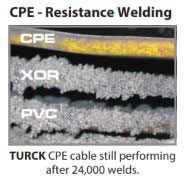 • Excellent resistance to flame and temperature extremes
• Superior resistance to tears, cuts and abrasions
• flexlife rating of over 2 million cycles
The cable jacket most commonly used in weld environments is CPE rubber.

TPE (Thermo-Plastic Elastomer)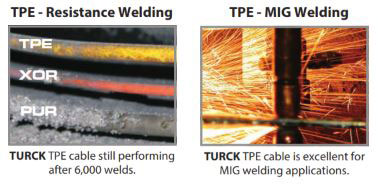 • Excellent resistance to weld slag buildup
• Available in more configurations
• Allows for easier cable stripping
• flexlife rating of over 2 million cycles
If your environment doesn't need cable quite as rugged as the CPE rubber we also offer TPE jacket material, sometimes called TPR (Thermo-Plastic Rubber).

COMBINE ALL THREE FOR ULTIMATE PROTECTION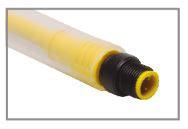 PTFE Coated Coupling Nut, TPE Mold Plug Body and Silicone Tubing

ADDITIONAL SOLUTIONS

Has weld/mig slag 'fused' your sensor to the cordset coupling nut? Replace a short, armored "Sacrificial Cordset" instead of redressing 20' of tie wrapped cordset.

• Protects internal wires from extreme weld flash
• Provides mechanical protection
• Extreme duty plug body
• Quick replacement

TURCK WELDING TIPS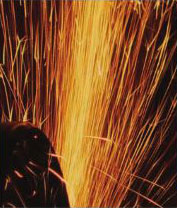 • Use PTFE coated threads and weldguard front faces to protect sensor surfaces wherever extreme accumulation of weld slag is common.
• Specialty tubing can be used to further protect a sensor and cordset from weld slag accumulation. Tubing that is resistant to both the accumulation of weld slag and high heat may be placed over the cordset and connector, fitting against the barrel end.

Weld Slag Cleaning/Removal

• Clean weld slag accumulation from PTFE coatings or covers using a gloved hand, if possible. Avoid cleaning PTFE with a tool or steel brush, as this can lead to slag accumulation quickly re-attaching to the areas worn by the tool or steel brush.
• Avoid cleaning surfaces coated with TURCK's weldguard material. The weldguard material sheds weld slag, and should not require regular cleaning.
• Stainless steel faced sensors will stand up to much more frequent and abusive wire brushing or other cleaning. However, if the sensors are coated in PTFE or weldguard, the coatings will suffer damage.

Sensor Abuse

• If contact with the sensor is a "glancing" blow across the entire sensing face and/or threads or side, use the extremely durable armorguard tool steel protective products.
• If the abuse occurs in the center of the sensing face or due impact directly on the sensing face, use a stainless steel sensor.

40 mm Cubed Sensors

• Always remember a cubed sensor's face orientation before removal.
• When working with popular CA40 sensors with the metal BS 2.1 or BS 2.0 brackets, use a 5/32 socket instead of the 2.5mm Allen wrench. This allows for quicker and easier removal and reinstallation.

Cordsets

• Avoid cross threading and the occasional difficulty attaching cordsets to sensors by turning the cordset's coupling nut in reverse (counter-clockwise) for about a turn (adjust to personal preference), watching to hold it as straight as possible before turning in the clockwise direction to tighten.
• If LED visibility is a problem, use an extension cordset with LED's molded on the connector.