WHAT ARE TURCK TEMPERATURE INSTRUMENTS?
TURCK's Temperature Instruments
utilize platinum resistance temperature detectors (RTDs), commonly referred to as a Pt-100 technology. Pt-100's contain a platinum wire that is wrapped around a core or patterned as a thin film on a substrate so that it experiences minimal differential expansion or other strains. As the temperature changes, the controller measures the change in the electrical resistance of the platinum wire. The resistance experienced by the sensor is proportional to the temperature changes being experienced by the media being sensed. Specifically, the hotter the wire becomes, the higher the value of electrical resistance. They require a small power source in order to measure resistance.


WHY CHOOSE TURCK TEMPERATURE INSTRUMENTS?

• Pt-100 technology is known to be highly precise, repeatable, and provide extremely short response times.
• Pt-100 RTDs have a nominal resistance of 100 ohms at 0°C with an accuracy of 0.4°C at 50°C. The sensor's operating range varies from -50 to 500°C (-58 to 932°F).
• Miniature transmitters that provide an analog signal directly from a M12 eurofast® connector.
• Robust internal and external design features; some models rated for IP67 protection.
• Easy to program and maintain.
• Remote or direct mounting; variety of probe lengths up to 2 meters; thermowells; compression fittings.

WHERE CAN I USE TURCK TEMPERATURE INSTRUMENTS?

• Food and beverage
• Hydraulic temperature
• Cooling lines
• Pharmaceutical
• Metal forming

WHAT ARE THE TS400 AND TS500 SENSORS?

Robust Pt-100 RTD sensors designed to handle harsh manufacturing environments.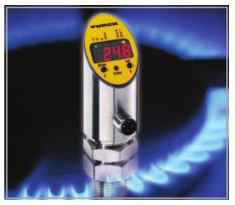 WHY CHOOSE TS400 AND TS500 SENSORS?

• Simple push-button programming includes a recessed button that stores selected values and helps prevent inadvertently changing parameters.
• Large LED display that can be inverted electronically; the TS500 version can be rotated 320 degrees.
• Versions with multiple outputs available; displays output in °C, °F, K and ohms.
• Does not require regular maintenance calibration.
• High immunity to electromagnetic interference.
• Robust stainless steel housing that provides an IP67 environmental protection rating.
• Remote or direct mountable; compatible with 4-wire probes.
• Housing design permits sensors to be mounted directly next to each other or in restrictive places.
• 4-pin M12 eurofast connection promotes easy integration in existing applications.

WHERE CAN I USE TS400 AND TS500 SENSORS?

• May be implemented in nearly all factory or process automation applications.
• Food and beverage
• Cooling lines
• Bearing temperature

How to Order TS400 and TS500 Sensors and Accessories

1. Determine your desired output and select the TS model that meets your needs.
2. Select the appropriate probe for your application.
a) Questions? Call us at 1-800-894-0412
3. Choose remote or direct mounting.
a) For direct mounting use the TP-206, order the stabilizer (STA-6) for applications with vibration.
b) For remote mounting, order a mating cordset (RK 4.4T-*-RS 4.4T).
4. Select a process connection.
a) For thermowells, order one length (50 mm) shorter than the length of probe you selected in step 2.
b) If no thermowell is selected, a compression fitting is needed for mounting the probe.
* Length in meters.