Valve Position Sensors
Position control in actuators and drives is essential in most chemical, petrochemical, and food industry applications.
TURCK Valve Position Sensors
provide a quality solution to valve position feedback in a variety of applications. Each industry has different needs, and while the DS20 series works well in most general applications, TURCK has created a variety of styles that were designed with specific industries in mind.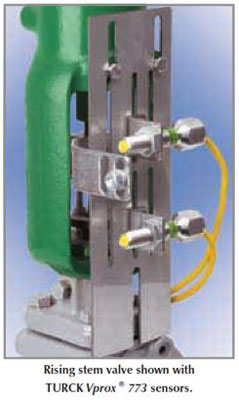 Chemical and Petrochemical Industries

The DSU35 provides superior protection against environmental influences, and is highly resistant to harsh chemicals, making it the ideal choice for chemical and petrochemical applications. This sensor and target puck can be mounted to several different actuator sizes without the need for adapters or spacer plates. The DSU35 is available with numerous outputs circuits such as a 2-wire DC, 2-wire NAMUR, 2-wire AC/DC, as well as with DeviceNet and AS-I bus protocols. We also offer the DSU35 with a terminal chamber, which is often a requirement in chemical process applications where conduit must be used.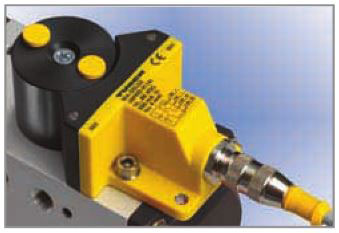 Food & Beverage Industries

TURCK uses injection-molding technology to make the compact DSC26 sensor, ensuring that it is fully sealed and well suited in wet surroundings. These features make the DSC26 ideal for use in a number of food or beverage applications. The DSC26 has a smooth housing which makes it easy to clean, yet it also has a high degree of protection against high pressure cleaning, and is highly resistant to aggressive cleaning agents.

Overview

TURCK has met with market demand to create an extensive line of valve position sensors. With a variety of standard eurofast, microfast, and minifast connections available, TURCK's dual sensors reduce installation costs and minimize the cost of maintenance. These robust and impact resistant sensors are ideal when valve position information must be provided.

Valve Position Sensor Part Number Key
Part Number Keys are to assist in IDENTIFICATION ONLY. Consult factory for catalog items not identified.