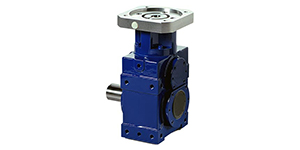 The tried-and-trusted spiral bevel gearboxes, servo spiral bevel gearboxes and bevel helical gearboxes from VOGEL Antriebstechnik now have new, improved quality standards.
Conversion to the modern production method of ground circular arc teeth brings numerous advantages for both machine builders and plant operators.
In addition to the reliable and reproducible manufacturing quality, the main reason for the VOGEL Antriebstechnik experts converting to the new process is the increase in productivity. This is achieved by a further reduction in concentricity faults, improvement of the surface of the tooth flanks with defined wear pattern as well as enlarged tooth widths and improved material strength.
All these factors contribute to speeding up processing times considerably. For customers, this means faster deliveries and even better delivery dependability.
The method of circular arc teeth according to Klingelnberg increases load capacity by an average of seven percent, whereby the value varies depending on gearbox size. Running noise and heat development are both lower in the new process, making even more efficient operation possible. The greater toothing quality and precision even allows small backlash values to be set easily: backlash can be reduced to 2 arcmin. The optimised toothing geometry produces lower specific gliding between the tooth flanks. In combination with the improved surface quality, this significantly increases the efficiency of the toothing components to 99 percent and of the complete gearbox to 97 percent. In connection with the use of high-grade synthetic oils, durable and low-maintenance precision gearboxes are created.
Individual and spare parts can also be delivered faster in future too. Because the new method does not require a gear set to be formed. Since production using this method manages without oil and the individual workflows are designed to be energy-efficient, manufacturing takes place in accordance with contemporary environmental standards. As a result, partners of VOGEL Antriebstechnik receive precision products of a higher manufacturing quality faster thanks to conversion to ground circular arc teeth according to Klingelnberg. The outermost gearbox dimensions remain the same, which means no further development costs are incurred.
For VOGEL Antriebstechnik, the high investment in modern technology is worth it. "Converting to the innovative manufacturing method of ground circular arc teeth allows us to produce cutting-edge high-precision gearboxes and offer these for sale around the world," Emir Erden, Sales Manager at VOGEL Antriebstechnik, says. The company is thus consolidating its position as one of the market leaders for drive technology in Europe. "Constant innovations and technological progress contribute to securing manufacturing jobs here in Germany," Erden explains.