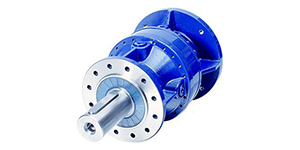 VOGEL Antriebstechnik is expanding its tried-and-trusted range of industrial gearboxes to include large torques. With the new angular and coaxial gearboxes, the innovative company is now offering customer-specific solutions up to an output torque of 50,000 Nm. The constantly increasing requirements on drive technology have prompted VOGEL to double the torques on their bevel helical gearboxes and large planetary gearboxes.
This means size 256 angular gearboxes with an output torque of 24,000 Nm and size 512 coaxial gearboxes with an output torque of 50,000 Nm are now available for customers. The new gearboxes guarantee reliable and efficient machine drive over the whole plant life cycle. The gear sets are mathematically precise, sturdy and practically rated for endurance strength.
"One main aspect of the new development was high mechanical efficiency for low-cost plant operation," Jens-Peter Horn, Head of Development at VOGEL Antriebstechnik, explains. The precise milling of tooth flank surfaces in particular guarantees low noise emissions. "Thanks to their universal and compact design, the new industrial gearboxes offer an enormous range of variants which can meet almost all customer wishes," VOGEL Sales Manager, Walter Speer, adds. The modular system, which is unique on the worldwide market, gives mechanical engineers exceptional flexibility, since important toothed parts and connections can be used in combination and adapted individually to different motor requirements. Whether for use in the food industry, applications in potentially explosive areas or completely individual customer-specific cases - the extensive breadth of variation now available is demonstrated by the quite different areas of use for the gearbox systems.
The bevel helical gearboxes types KS and MKS (ratio range i = 6 to 28.8) and MPKS (ratio range i = 73.44 to 7056) are delivered with a smooth shaft, a keyway according to DIN 6885 or a shaft with involute gearing according to DIN 5480 on the output side. VOGEL can also supply tailor-made outputs depending on customer requirements. The drive side is equipped with all IEC connections as well as connections for hydraulic motors. In the case of the KS variant, the design includes a free shaft end with keyway. The solution provider VOGEL also offers other solutions such as a universal shaft connection, for example. Without cooling, the gearboxes are in operation at a continuous thermal output of 80 kW, peak performance is 150 kW.
The new large planetary gearboxes of the series PF and MPF with a ratio i of between 13.6 and 1575 particularly cover small output speeds with high torques as well as high radial and axial loads. This makes them suitable for special applications, ideally as slewing and mixer drives or as azimuth drives for wind turbines. As with the bevel helical gearboxes, the output sides of the planetary gearboxes are manufactured according to customer requirements, as are the pinions used. In addition to customer-specific output pinions, VOGEL supplies excentric connection flanges with an excentricity of ± 1.5 mm for slewing and azimuth drives for wind turbines.