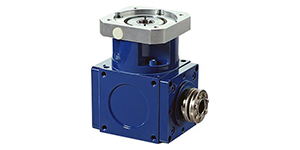 Modern servo systems can reach their target of high precision only in conjunction with appropriate gearboxes.
Particularly for these applications Vogel has developed a new generation of servo spiral bevel gearboxes. Vogel possess many years of experience in spiral bevel and low backlash planetary gearbox production.
This has resulted in gearboxes which are optimal for the requirements of servo applications. The range of three models features gear ratios from 3.000 up to 10.000.
Even higher ratios can be obtained in combination with planetary gearboxes, because Vogel products are matched over all product ranges. The new servo spiral bevel gearboxes handle high input speeds to 7,500 r/min, are quiet with less than 68 db(A), are designed for output torques of 150Nm which applies in reversing operation.
By these characteristics the new gearboxes are ideal for servo applications with a high cyclic frequency as well as high precision, because with a maximum backlash depending upon type of between 2 and 5 arcmin, low backlash power transmission is ensured, which is also maintained in reversing operation.
In common with all Vogel gearboxes, the new servo spiral bevel gearboxes are universally applicable and installation-friendly by axially compact construction, any installation position, symmetrical construction and a flexible motor connection at the input flange.
Current market successes for these series of gearboxes include packaging machines, positioning and laser technology, and robotic handling.