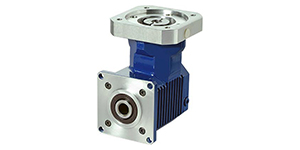 In the fast moving world of gearbox manufacture, aspiring to more and more high powered servo drive concepts, a great step has been achieved. The speed of the gearbox has been prohibitive until now, Vogel can now nearly double the speed with it's new Servo-Hollow shaft gearboxes within the same size of gearbox.
The products, equipped with a hollow shaft at the output end lend themselves for the use in a throw drive, linear drive and all other functions of the handling technique for spindle-motion. With maximum output speeds up to 7,500 rpm and output torques up to 150 Nm, high dynamics potential is given among good mechanical efficiency at the same time. Backlash at the output according to the type is available between two and five arcmin, high tact numbers are executable with enormous precision. These demanding performance values are enabled by the Palloid-Hypoid-toothing employed by Vogel.
The new range of gearboxes, which are offerred in three dimensions, become a Tuning tool amongst others in packing machines or lines of all industries, catering for a wide range of applications e.g. lift aggregates and many other constructions of the General machine and Equipment construction. Robot-based applications such as for example loading - and setting off robots, as well as palletizer. The excellent repeating accuracy stands in a continuous range with mathematically exact transmission ratios from i = 3,000 to i = 10,000. Higher transmissions can be achieved in connection with planetary gearboxes due to the excellent connectivity between Vogel products which comes as standard.
As with all Vogel gearboxes the Servo-Hollow shaft gearbox complements the well tried Servo-Spiral bevel gearboxes giving multipurpose applications and easy to design-in by space saving short method of construction, symmetric construction, common motor connection at the drive flange and any installation position thanks to its flexible lubrication system.