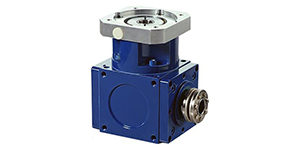 Innovation arises through ideas and the technical implementation. Once again Vogel Antriebstechnik shows that in the range of powerful gearboxes for servo applications. Now the developmentally strong middle class enterprise combines two well tried gearbox concepts in extremely compact type design, to achieve high, mathematical exact ratios as far as i = 100.
The Servo gearbox combinations are equipped with a direct flange or with an output shaft at the output end and are suitable for the use in all applications of general mechanical engineering. With maximum input speeds up to 7.500 rpm and nominal output torques up to 340 Nm, a high dynamics potential is given next to a very good mechanical efficiency of over 94%. In connection with small backlash at the output according to the type between three and five arcmin even highest tact counts are executable with greatest precision. These fastidious performance values are enabled by the employed Palloid- Hypoid-toothing of Vogel.
Therewith the new gearboxes, which are offerred in four sizes and in 13 different ratios, become the "Tuning tool" among others in packing machines, sorting applications and many other constructions, above all in the robot handling.
Like all Vogel gearboxes also the Servo spiral bevel planetary gearboxes giving multipurpose applications and easy to design-in by space saving short method of construction, symmetric construction, common motor connection at the drive flange and any installation position thanks to its flexible lubrication system.
Beside this new gearbox range, Vogel presents at the Hannover fair 2005 Spiral bevel gearboxes in explosion proof version according to European Directive 94/9/EC (ATEX) and again extended proposition of product Literature. The acceptedly good product information by Vogel for constructing engineers, technical documentation and purchasing becomes complemented by new catalogues for Phase shifter and Planetary gearboxes.