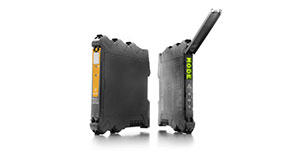 ACT20P PRO RTCI-AO-DO-S impresses with extremely simple configuration

To ensure a smooth process, many industries – from machine construction to process and energy technology – require secure isolations of temperature, resistor, potentiometer, current, or voltage signals as well as precise signal conversions.

The ACT20P PRO RTCI-AO-DO-S universal temperature converter delivers an impressive performance with a simple configuration via integrated display. It supports many sensor types, offers a high isolation level and a superior accuracy. A universal power supply and extensive approvals make the ACT20P-PRO-RTCI-AO-DO-S one of the most reliable and accurate signal converters on the market.

Your special advantages

• Reliable and accurate signal conversion and isolation
• Digital NPN output for accurate set point limit monitoring
• Measures any resistance, such as temperature resistors or motor windings
• Quick configuration via integrated display