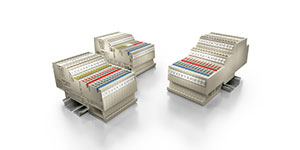 Klippon Connect provides high-density wiring

A large number of sensors monitor the production process. The terminal blocks are therefore particularly important for signal wiring. Klippon Connect initiator / actuator terminal blocks AIO allow for maximum wiring densities; up to four different potentials may connect on a width of only 3.5 mm.

Our signal wiring solutions are geared for future automation requirements and are available in many different designs. Due to a large number of variants, you benefit from maximum flexibility in the design of the signal feed. In combination with an I/O system, a particularly effective and safe potential distribution is achieved. Klippon Connect Sensor Actuator Terminal Blocks AIO optimise the distribution of initiator and actuator signals.

Your special advantages

• Coloured pusher to prevent miswiring
• Testing points for diagnostics of potentials at each contact point
• Many variants, e.g., for sensors or actuators with three or four conductors and with and without protective conductor connection
• PUSH IN technology for a tool-free connection of rigid conductors and conductors with wire end ferrules

Many variants
Whether it's for three- or four-conductor initiators or actuators with and without a protective earth connection, we've got the perfect terminal block in our range.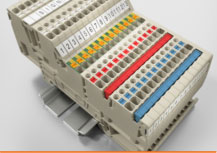 Coloured pushers
Each conductor – positive, negative, signal or PE – has its own colour. Incorrect wiring is prevented, while installation and maintenance are made more efficient.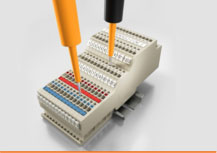 Check and test point
The different potentials can be tested at every contact point. Testing work in the panel is significantly sped up.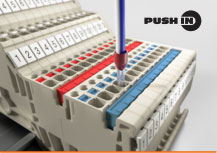 PUSH IN technology
Both rigid conductors and conductors with wire-end ferrules can be reliably connected directly and without the need for any tools. For maximum contact security in a minimum amount of time.