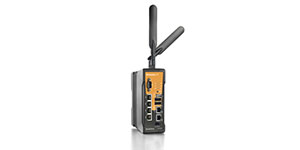 Gigabit Security Router with 2/6 ports and LTE/4G interface

Reliable routers are essential in all industrial network infrastructures. Weidmüller routers are perfectly suited both for securely connection machines and systems to higher-level production networks via WAN/LAN as well as for establishing a direct mobile Internet connection via the LTE / 4G interface.
In addition to traditional IP routing, all variants also have an extremely variable mechanism for controlling network traffic (firewalling) as well as a sophisticated IP address management system (NAT) for reducing and adapting IP addresses. In addition, VPN connections can be implemented via both OpenVPN and IPsec in either client or server mode. Of course, all variants are also suitable for use with Weidmüller's u-link remote access service.

Your special advantages

• High data throughput by means of Gigabit Ethernet interfaces on all LAN/WAN ports
• High-speed mobile connection via LTE/4G (maximum download rate of 100 Mbps, maximum upload rate of 50 Mbps)
• Lowers costs thanks to a 6-port router for connecting up to 5 machine networks to a production network