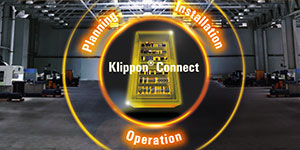 Klippon Connect offers added value at all stages
Often, standardisation enables the right solution to be found with our sophisticated, function-oriented universal range, providing you with practical product features. For recurring application fields, such as control voltage distribution or signal wiring, we offer you the ideal solutions with our application range. Thanks to the high level of application focus, these solutions really do help increase productivity, efficiency and safety.
To get the most out of your processes, we also support you with Klippon Services throughout all lifecycle phases. An example is our Weidmüller Configurator (WMC) with new Fast Delivery Service for even greater flexibility in project planning. As a software solution, the WMC not only offers support for individual steps, but for panel building as an entire, seamless process, building a bridge from planning through to operation.

Up to 75 % time saved in planning

• Faster planning with the Weidmüller Configurator
• Error-free configuration thanks to compatibility checks on products and accessories
• High level of transparency throughout the entire process thanks to linked data models
• Convenient creation of product documentation

High wiring density with maximum ease of installation

• Noticeably faster wiring with PUSH IN technology
• All product functions can be clearly distinguished
• Flexible potential distribution thanks to a wide range of cross-connection options
• Faster marking thanks to endless marker strip and large marking surfaces

Sustainably higher availability during operation

• Simpler testing procedure thanks to integrated test point
• Rewiring possible during operation without the need for any special tools thanks to PUSH IN technology and accessories
• Gas-tight connections for interference-free operation
• Flexible, simple modification and extension