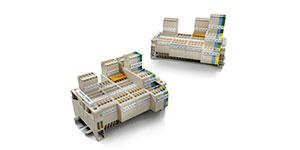 Klippon Connect modular pluggable terminal blocks

Modular and flexible connection techniques are in demand especially where entire functional units have to be prefabricated or replaced. Pluggable terminal blocks accelerate the assembly and simplify the exchange of functional units and the disassembly of parts for transport.

Klippon Connect pluggable terminal blocks with PUSH IN connection technology combine the advantages of our unique connection technology with the flexibility of our connectors. They enable the quick and easy exchange of functional units in the control cabinet. The system works reliably even under the harshest conditions, and it is therefore also suitable for railway and ship applications.

Your special advantages

• Cover against soiling and for maximum finger protection
• Strain relief to protect the conductors from mechanical stresses
• Coding pins for protection against mismating
• Locking element for maximum vibration safety
• APGCE coding element for uniform coding with cross sections of 1.5 mm² and 2.5 mm²

Protection from external influences
The cover of the plug contact offers protection from external influences, e.g. soiling from dust. The cover also offers top protection. The touch- safe terminal block also remains touch-safe if the plug is absent.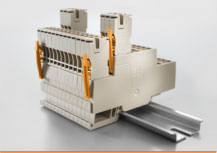 Vibration resistance
All plugs can be connected safely and simply with the base terminal via the locking element. This protects your wiring from inadvertent disconnection of the connector.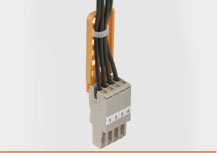 Protection against mechanical loading
The strain relief protects the contact against mechanical stress and protects the connector against inadvertent release from the contact point.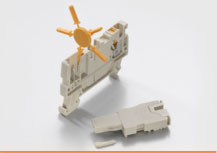 Protection against mismating
Through the use of coding pins, individual coding options ensure trouble-free J84 plug-in connection.