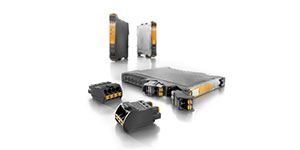 BHF 5.00 PUSH IN for CH20M housings

Controls, I/O systems, and, in particular, signal interfaces need to have components that are as compact as possible but also provide excellent functionality, vibration-proofing and simple handling.
The new BHF 5.00 PUSH IN signal plug-in connector
achieves these requirements thanks to its space-saving design and innovative PUSH IN connection method, optimised for wire cross-sections of up to 2.5 mm². The new BHF 5.00 PUSH IN is ideal for installations near pumps, motors, compressors and any applications with strong vibrations where connections must be reliable.

Your special advantages

• PUSH IN technology for comfortable operation with high wiring safety
• Protection against mismatching due to integrated, captive coding system with "AutoSet" function
• Direct connection of conductors with wire end ferrules and single wires up to 2.5 mm²
• Optimally suited for the application-specific configuration of CH20M housing solutions