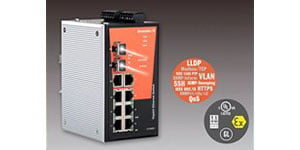 High-end Gigabit switches for applications in industrial communications

Weidmüller has introduced three new product lines of switches – Basic Line, Value Line and Premium Line – to satisfy all communication requirements in industrial environments. Weidmüller's new managed Gigabit switches from the Premium Line family of products have been designed for high-end applications: featuring sophisticated management and security functions they are suitably equipped to establish cutting-edge network solutions. The devices can be supplied with Gigabit Ethernet or Fast Ethernet ports. One version is equipped with Fast Ethernet as well as Power over Ethernet ports. These devices increase the reliability and availability of industrial networks thanks to integrated ring redundancy technology (recovery time ≤ 20 ms). Gigabit versions are designed for use in networks with large volumes of communication data, and optional SFP transceivers offer maximum flexibility. These features ensure the Gigabit Ethernet switches are predestined for communications-intensive applications in distributed sub-networks as well as for high traffic loads in backbone solutions.
Managed Gigabit Ethernet switches are equipped with two integrated Gigabit Ethernet ports plus 16 Fast Ethernet ports for copper and fibre-optic solutions. They support all customary protocols of TCP/IP-based industrial networks (for example, Ethernet/IP, Modbus/TCP). An external back-up and configuration module supports simple exchange and retrieval of a switch configuration to maintain high levels of plant availability. Managed Gigabit Ethernet switches have the following approvals and certificates of conformity: CE, FCC, UL/cUL Class I Div. 2 / Atex, DNV / GL.