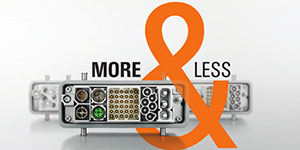 Progressive automation
is constantly creating new challenges for industrial applications, as processes must become more digitalised but remain comprehensible. Meanwhile, complex functions need to be performed easily and massive amounts of data need to be transmitted over the smallest space possible.
Cutting-edge connectivity ensures that companies are prepared for the demands of Industry 4.0.

The possibilities presented by Weidmüller mean you don't have to restrict yourself in the way you work: the modular RockStar ModuPlug connector system solves space problems by offering increased functionality with reduced installation space. Thanks to the innovative variety of module sizes available, you can achieve the highest possible density while saving space and weight.