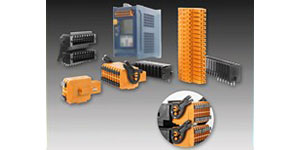 Weidmüller is presenting its new two-row pitch connector at the 'electronica 2012' in Hall B4, Stand 543

Weidmüller proudly presents the OMNIMATE Signal B2CF 3.50, a two-row 3.5 mm metric PCB pitch connector comprising a female plug equipped with Push In connection technology and a finger-safe male header.
The new connector makes it possible to downsize solutions by up to 30 % in comparison with 2.5 mm pitch solutions. The orange coloured female plug is available with and without a side flange as well as with a black release lever; its PUSH IN connection system accommodates solid and flexible connectors with and without ferrules from 0.14-1.5 mm2. It is possible to connect conductors up to 1.0 mm2 with crimped on ferrules with plastic collars without any difficulty.
Distinguishing features of the maintenance-free PUSH IN spring connection technology include safe and easy handling as well as extremely low wiring times. Stripped of insulation solid or finely stranded conductors with crimped-on ferrules are simply inserted into the terminal point. Job done! Flexible conductors are connected by opening the terminal point – a simple push button operation. Easily readable markers attached to the 'pusher' of each terminal point ensure electrical equipment is clearly and explicitly marked. The lock and release lever ensures female plug and male header are easily locked together or separated without tools and without placing stress on component assemblies. The highly heat-resistant, two-row male header is available as 90° and 180° versions as well as with enclosed sides or also with a soldering flange. With 1.5 and 3.2 mm pin lengths the male headers are designed for reflow and wave soldering applications.
Male header rated data: 200 V / 10 A (IEC) and 150 V / 10 A (UL); female plug rated data: 320 V / 10 A (IEC) and 300 V / 10 A (UL). 4-36 pole versions of the OMNIMATE® Signal B2CF 3.50 family are available. An extensive range of accessories such as markers, LED light guides, strain relief and coding elements round off this well balanced offer. The new female plug is compatible with the proven male headers from the Omnimate ® families S2L 3.50; S2L-SMT 3.50 and S2LD-THR 3.50.