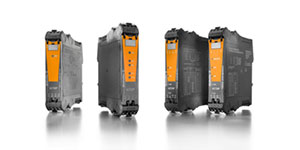 ACT20P limit monitoring relays for a wide range of applications

In many industrial applications, limit values need to be constantly monitored in order to guarantee smooth processes. Specific guidelines and standards often make the use of different limit monitoring relays a necessity.

ACT20P monitoring relays are the reliable and flexible solution for limit value monitoring. Due to their universal power supply and worldwide approvals, they can be used in many applications, e.g. in machine, plant and panel building, wind energy, Ex areas, and shipbuilding. The products are characterized by a wide variety of alarm functions, high repeat accuracy and measurement sensitivity as well as absolute reliability and simple operation.

Your special advantages

• High flexibility thanks to universal power supply
• International approvals for worldwide usage
• Alarm functions for various process requirements, e.g. window alarm, upper / lower limit value with hysteresis
• Comfortable software-based configuration and documentation