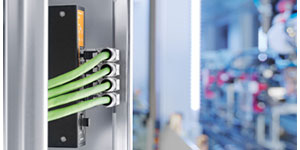 Weidmüller is offering the new RJ45 plug-in connectors, which can be assembled on-site, for transmission speeds of up to 10 Gbit/s.
The new and compact RJ45 plug-in connectors with straight or angled cable routing allow users to create outlets in four different directions. Without using any special tools, users connect the plug-in connector in around one minute, with a triple piercing contact to guarantee secure contacting.
Nowadays, systems are increasingly being decentralised – a development which requires cabinet sizes to become ever smaller. Requirements are also growing in terms of data transmission speed. Then there's the fact that people are needing to route cables in tighter and tighter spaces too. Often, all of this results in bent or broken cables, which causes lower transmission performance, data loss or system downtimes. The new RJ45 plug-in connectors from Weidmüller provide the perfect solution to these problems, since cables can be routed either straight or at an angle in four different directions (up/down and right/left). The new plugs can be simply and quickly assembled on-site – in the impressive speed of around one minute and without the need for any special tools. Weidmüller is thus presenting a pioneering concept with its new compact RJ45 plug-in connectors. Indeed, they impressively implement space-saving connection solutions and offer application-appropriate cable routing, all the while being extremely easy to install – for powerful and efficient Ethernet connections.