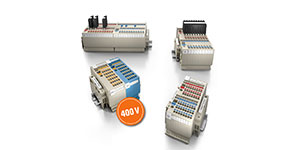 Klippon Connect for optimum control voltage distribution

In control circuits, electrical energy is distributed in the panel from the power supply to downstream consumers. To guarantee a safe supply of power, plenty of conductors must be connected, which becomes confusing and can lead to incorrect wiring.

Klippon Connect control voltage distribution terminal blocks AAP support the compact design of control voltage distributions and ensure effective control voltage of the equipment in the control cabinet. The unique modular concept can be tailored to every type of machine. The potential distribution terminal blocks AAP achieve success due to their uniform design with two possible constructions – alternating or grouped. Cross-connection possibilities save space and avoid miswiring.

Your special advantages

• Space saving by combining positive and negative potentials on a single terminal block
• Quick fuse replacement by simply opening and releasing the fuse holder from the compound
• Coloured pusher for potential discrimination in control current distributions from 0 to 400 V
• Two cross-connection channels for attachments and expansions

Coloured pushers
The colours make distinguishing between the different potentials easy. Time-consuming and costly troubleshooting is prevented.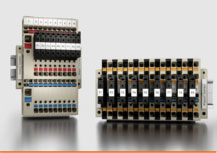 Space saving
The combined functionality of positive and negative potentials in one terminal block enables a significant space saving.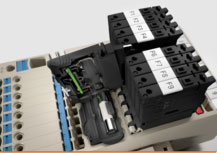 Potential distribution with fuse protection
The fuse can be replaced quickly and easily by simply releasing and opening the fuse holder on the system.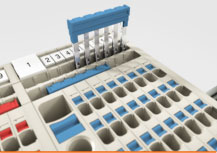 Two cross-connection channels
Thanks to the modular system, another terminal block can be attached and expanded using an additional cross-connection in the second crossconnection channel.