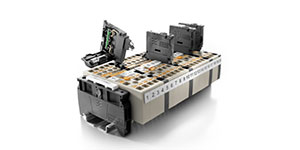 Klippon Connect combines protective functions and quick assembly

Current protection, disconnection, and voltage distribution are three critical functions inside a panel. To provide optimal protection for staff and machinery, any customisable connection solutions must combine all three aspects within a single system.

The new Weidmuller Klippon Connect disconnect and fuse terminal blocks with PUSH IN technology offer passive current protection in combination with both disconnection and voltage distribution. The terminal blocks from our universal range can be used easily for various protective functions in an extremely wide range of industrial applications. Their compact dimensions enable a flexible installation, even in confined spaces. To remove the fuse holder only a standard screwdriver is required.

Your special advantages

• Fixed, captive fuse holder
• Combinable fuse holders for simultaneous opening / closing of 2-poles circuits
• Integrated test point for easy troubleshooting / maintenance with a 2.0 mm standard testing plug
• Multifunctional disconnect section for use of different accessories like disconnect lever or fuse plugs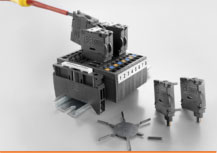 Attached fuse holder
Each fuse holder is attached to a terminal block with a hinge. This means that it will not go missing when the circuit is disconnected or when a fuse is replaced.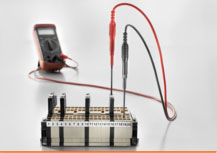 Integrated test point
The integrated test point simplifies troubleshooting and maintenance: Any required measurements can be performed with a standard 2.0 mm testing plug.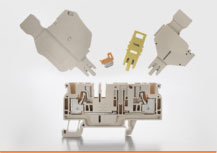 Multifunctional disconnect section
The customer is able to use different accessories like disconnect lever or fuse plugs because of the standarzied disconnect section.