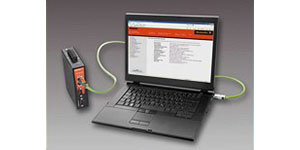 Simplifies integration of serial devices in industrial Ethernet networks.
Weidmüller's new serial/Ethernet converters integrate devices with serial interfaces in industrial Ethernet networks
- simply and reliably. Designed-in functionality protects previous investments in existing automation components. The Ethernet interface of the devices supports a broad spectrum of operation modes such as TCP Server, TCP Client, UDP, Real COM, RFC2217, Reverse Telnet, Pair Connection and Ethernet-Modem – designed-in versatility that guarantees network software compatibility. The converter is eminently suitable for deployment in automated industrial applications in which devices with a serial RS-232, RS-242 or RS-485 interface communicate in an Ethernet network; examples of such devices include control systems, sensors, measuring instruments, motors, drives, barcode scanners and operating status indicators. Two Ethernet ports integrated in the device can be used as Ethernet switch ports – a feature that reduces the costs of cabling, because users no longer need to connect each device to a separate Ethernet switch. Users are also able to implement a cascade connection comprising several serial/Ethernet converters to create an Ethernet network structure that enables uncomplicated access to components with a serial interface, for example via PCs. An integrated web interface allows users to configure all converter functions and Ethernet network parameters in a user-friendly environment.