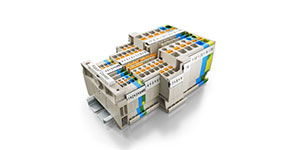 Klippon Connect universal products with PUSH IN technology

As a result of growing competitive and cost-related pressure, innovative connection solutions that offer both minimal installation time and maximum safety for users and equipment are in demand. With Klippon Connect universal products, you can address every requirement under the same standard.

The new Klippon Connect PUSH IN series terminals of the A-series combine simple handling with clear design and small dimensions. This saves time during installation and increases productivity. Subsequent modifications and rewiring are possible at any time without any special tool due to the simple functional principle as well as the spring-mounted mounting foot. The spring-based direct plug-in technology ensures a vibration-proof and gas-tight connection.

Your special advantages

• Integrated check and test point on each level
• Testing with standard measuring tips and test plugs
• Large marking areas for unambiguous identification
• Integrated pusher for easy opening of the clamping point without special tools
• Convenient cross-connection – also to terminals with a smaller cross-section

Compensating mounting foot
A spring-loaded mounting foot compensates for differences in terminal rail dimensions. This makes latching and unlatching the terminal blocks easier.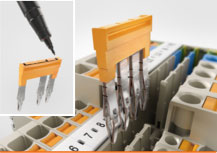 Integrated cross-connectors
Integrated cross-connection channels increase flexibility and shorten wiring times for panel building. All cross-connectors can be adapted and marked easily.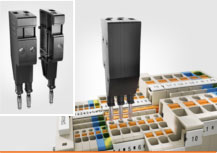 Check and test point
The standardised check and test point simplifies wiring tests and troubleshooting at every level.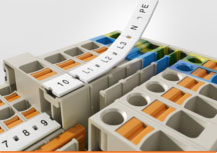 Efficient markers
Large marking surfaces at each contact point simplify circuit allocation. The new marker strips make labelling more effective.