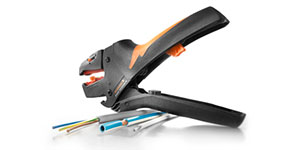 For processing tough, halogen-free insulation materials in XL format. – With an enhanced cross-section range of 2.5 mm² to 10 mm².

Weidmüller adds the new stripax ULtimate XL stripping tool to its proven stripax range. Application-specific cables with large cross sections and high insulation requirements are used in many areas. When it comes to stripping cables, users are constantly faced with new challenges. Weidmüller offers a reliable and safe solution with stripax ULtimate XL: the new stripping tool is designed for cross sections ranging from 2.5 mm² to 10 mm² and effortlessly copes with the most stubborn insulation materials. Even the tough PUR sheathing materials of sensor/actuator cables with 4.1 mm to 7.2 mm diameters present no obstacle.
A unique set of blades (ERME SPX UL XL) enables practically all halogen-free insulation materials as well as UL or UL-type cables with hard or smooth insulation to be stripped quickly, cleanly and with precision in an automatic, self-adjusting process – in the cross-section range 2.5 mm² to 10 mm².