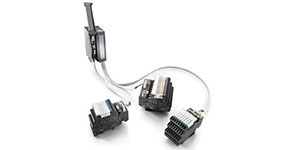 Interface adaptor for TERMSERIES relays shortens wiring times in electrical cabinets thanks to Plug & Play

With its new TERMSERIES interface adaptor, Weidmüller is offering a compact solution for faster signal wiring, as the interface adaptor for TERMSERIES relays shortens wiring times thanks to Plug & Play. Pre-assembled lines are simply connected to the TERMSERIES interface adaptor between the I/O cards of the control and interface level.
The pre-assembled Plug & Play solution featuring a TERMSERIES interface adaptor reduces the amount of wiring required, thus also shortening throughput times in electrical cabinets. When used in combination with the identically shaped TERMSERIES products, the interface adaptor offers a considerable space saving thanks to its universal fit. Its symmetrical structure means that it can be plugged onto coils, just as it would on the TERMSERIES contact connections.
Its new contact system guarantees permanent contact at all times, even in the event of vibrations. A potential changeover switch for the lower level allows for trouble-free use of both positive- and negative-switching logic in a single device. There are four interface adaptor variants available: TIA F10, TIA SUBD 15S, TIAL F10 and TIAL F20. All four versions are suitable for input and output logic. TERMSERIES interface adaptors can also be combined with u-remote, Weidmüller's remote I/O system, whether connecting u-remote DO sub-assemblies using form-fit cable sets or for TERMSERIES relays.