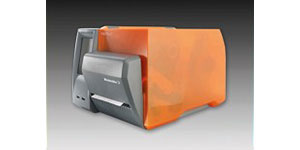 Thermal transfer printer suitable for Weidmüller's entire programme of labelling systems – now with cutting and perforating options.
With its new 300 dpi thermal transfer printer THM Plus S Weidmüller offers a versatile solution to printing labels on different materials
. No matter if endless materials on rolls or fanfold, textile and polyester labels, shrink sleeves and PLC labels – this printer can print on them all. A generously dimensioned intuitive touchscreen display provides comprehensible status indicators in a variety of languages. The cutting and perforating options make it possible to print endless strips of labels as well as endless shrink sleeves and at the same time perforate or cut off individual labels – designed-in features that simplify the printing process significantly. The blades are simply snapped onto the printer. The labelling software M-Print Pro offers functions specifically tailored to the THM Plus S printer – for instance an input mask to configure endless strips of labels with various grid dimensions. The printer installs automatically by means of Plug and Play ID when connected via USB. As is the case with the software M-Print Pro, the printer driver runs under 32 and 64 bit versions of Windows XP, Windows Vista and Windows 7. The THM Plus S thermal transfer printer is certified and approved in accordance with CE, CB/UL, FCC, CCC and GoST specifications.