4-Pole Contactors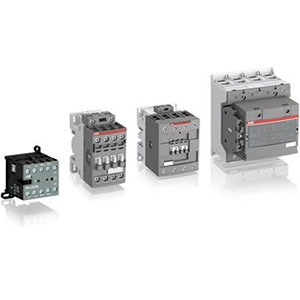 ABB's AF 4-pole contactor range is a complement to the family of 3-pole AF contactors and motor protection equipment. Unmatched performance in a variety of applications and environments has made the AF contactors well appreciated by customers throughout the world. You can also benefit from the compactness of the 4-pole mini contactors available with 3 connection types.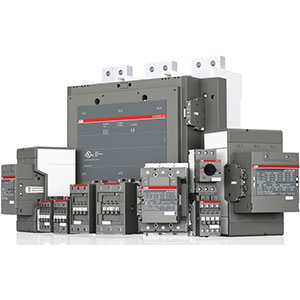 AF
Featuring AF technology as standard, AF contactors establish a new industry benchmark. The electronically controlled coil offers multiple benefits over conventional alternatives, and together with ABB's wide product offering, an optimal configuration, every time. Main benefits include Optimize logistics and cut administration costs with fewer product variants to handle; Access global support and use the same products in all parts of the world: the 100 - 250 V, AC/DC coil covers all standard network voltages; A reduction of the coil's energy consumption by 80% lets you save energy & Secure your uptime by letting the AF technology overbridge voltage drops and sags. Main features include Up to 560 kW - 400 V AC-3, 900 hp - 480 V and 2650 A - 690 V AC-1, 2700 A - general use; Only 4 coils cover 24 V - 500 V AC and 20 V - 500 V DC; Screw, spring and ring tongue connection types; Built-in surge suppression; Connection sets and interlock unit for reversing and star-delta starter for an easy, fast and secure assembly of starters & Mirror and mechanically linked contacts.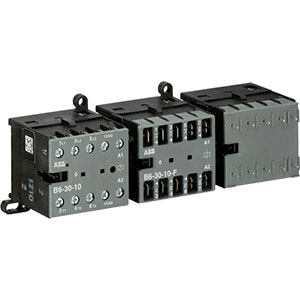 Mini
ABB Mini contactors are ideally suited for applications where reliability is a must and space is at a premium. The dimensions, technical features and the variety of the assortment provide customers a high flexibility in a wide-range of applications. Main benefits include Flattest mini contactor on the market; No noise in operation thanks to the hum free coil; Energy and cost saving & Flexible use in any position. Main features include Up to 5,5 kW - 400 V AC-3, 5 hp - 480V, 20 A - 400 V AC-1 and 16 A - general use; 3 connection types available: screw, soldering pins and flat pins; Mini-reversing contactor with built-in mechanical interlock available; Special version with 1.4 W coil consumption for direct connection to PLC & Integrated protective circuit with diodes and an additional surge suppressor.