Contactor Relays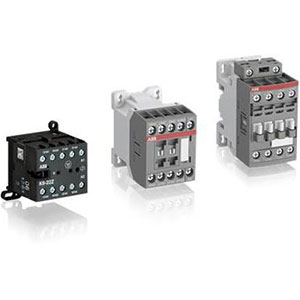 ABB's contactor relays offering features products of technological advancement as well as products with specific purposes. NF contactor relays allow use in all parts of the world and in all network conditions. The mini contactor relays range offer various contact combinations and specific connection possibilities. The AS contactor relays are efficient and allow you to optimize your equipment design.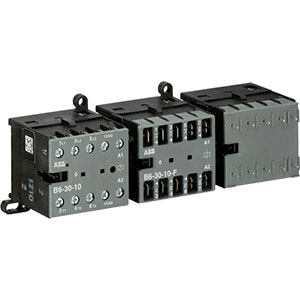 Mini
ABB Mini contactors are ideally suited for applications where reliability is a must and space is at a premium. The dimensions, technical features and the variety of the assortment provide customers a high flexibility in a wide-range of applications. Main benefits include Flattest mini contactor on the market; No noise in operation thanks to the hum free coil; Energy and cost saving & Flexible use in any position. Main features include Up to 5,5 kW - 400 V AC-3, 5 hp - 480V, 20 A - 400 V AC-1 and 16 A - general use; 3 connection types available: screw, soldering pins and flat pins; Mini-reversing contactor with built-in mechanical interlock available; Special version with 1.4 W coil consumption for direct connection to PLC & Integrated protective circuit with diodes and an additional surge suppressor.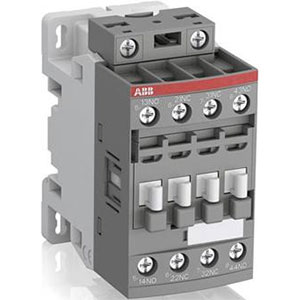 NF
ABB NF contactor relays are featuring AF technology as standard. The electronically controlled coil offers multiple benefits over conventional alternatives, and together with ABB's wide product offering, an optimal configuration, every time. Main benefits include Optimize logistics and cut administration costs with fewer product variants to handle; Access global support and use the same products in all parts of the world; A reduction of the coil's energy consumption by 80% lets you save energy & Secure your uptime by letting the AF technology overbridge voltage drops and sags. Main features include 4 and 8-pole ranges available, 8-poles with permanently fixed 4-pole auxiliary contact block; Screw, spring and ring tongue connection types available; Built-in surge suppression; Overlapping of lagging / leading contacts for NF33/11 and NF51/11 variants; Easy-to-use accessories through snap-to-connect function & Mechanically linked contacts.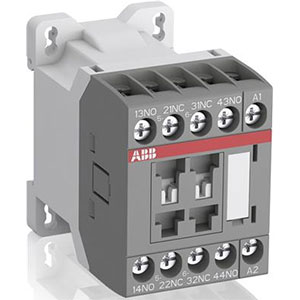 NS
ABB NS compact contactor relays allow you to optimize equipment design and provides reliable, time and cost saving solutions. Main benefits include Right performances at the right price; Same dimensions in depth, width and height throughout the range in AC or DC control and for screw and spring terminals & Easy, fast and secure assembly of accessories. Main features include Complete offer of 4 and 8-pole with various contact combinations; Screw and spring connection types available; Direct control by PLC removing any use of interface relay and reducing panel power consumption; Side clipped-on surge suppressors, integrated into overall contactor dimensions & Mirror and mechanically linked contacts.