ASCO

Whether controlling an industrial process or driving a production line, ASCO fluid automation solutions increase customers' speed to market and rapidly turn their ideas into measurable outcomes. With the industry's broadest range of ultra-reliable products, delivered and supported with exceptional speed and responsiveness, ASCO's portfolio includes more than 50,000 solenoid and pneumatic valves, cylinders and actuators, air preparation equipment, and accessories. Wherever manufacturing or processing happens, more and more customers are encountering challenges that demand the comprehensive fluid automation solutions that only ASCO can deliver. By combining innovative technologies and cross-applications expertise, ASCO's people create fluid control and pneumatic products and services that help customers maximize efficiencies, optimize applications, and transform ideas into measurable outcomes. ASCO's fluid automation product lines include a wide variety of solenoid valves, angle body piston valves, pneumatic valves and manifolds, cylinders, filters, regulators, lubricators and a complete range of accessories. ASCO develops engineered solutions that set the standards for a broad range of markets and applications - continually identifying opportunities for customers to realize their true potential.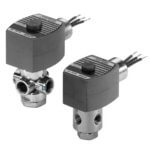 ASCO Valves

ASCO solenoid valves control critical flow of air, gas, water, oil, and steam in applications spanning numerous industries. Our portfolio ranges from two-position on/off valves to flow control systems that impact thousands of users. ASCO's RedHat power management technology sets a new industry standard for reliability and power consumption, accepting both AC and DC voltages while improving performance.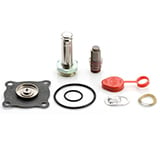 ASCO Valve Rebuild Kits

ASCO Valve Rebuild Kits for Red Hat solenoid valves come with caps, clips, core assembies, core tube assemblies, diaphragm assemblies, and instructions. See individual models for a complete part list. The tag on your valve will inform you of the correct kit to choose. Kits are available for 2-way, 3-way, and 4-way ASCO solenoid valves.