Robust and extremely versatile, Contrinex capacitive sensors detect position or presence of conductive and non-conductive materials, including liquids, pastes and bulk solids. Rechner capacitive technology permits detection of targets through thin non-metallic barriers, ideal for controlling packaging and filling processes.
Basic
Contrinex BASIC range of capacitive sensors consists of cylindrical and cubic devices, embeddable (M12, M18, M30) and non-embeddable (M18 and M30). With operating distances from 0.5 mm to 25 mm, this range of Rechner sensors is the cost effective solution for level sensing tasks in the plastics industry, in particular for the level control of granulates in feeders, pipes or silos.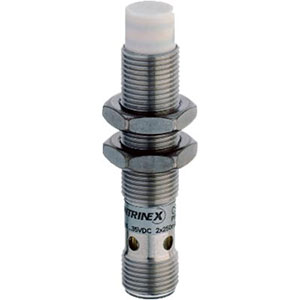 High Performance
Contrinex HIGH PERFORMANCE range consists of 4-wire devices in M12, M18 and M30 standard sizes. Devices with a PTFE housing are FDA compliant and ideal for applications in the food and pharmaceutical industries. For the difficult task of sensing sticky and viscous materials, the range includes Ø 26/G1-sized sensors in a non-embeddable PTFE housing. With operating distances from 0 to 30 mm, Rechner HIGH PERFORMANCE range is the ideal solution for difficult sensing tasks in demanding industries and environments.