Safety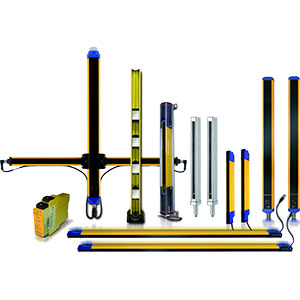 Datalogic offers a complete line of type 2 and type 4 safety light curtains for machine safeguarding and access control in dangerous areas, with basic and advanced functions, such as integrated muting, override, blanking, cascadable, configurable models. Datasensor has more than 40 years of experience in the sensors and safety sector, developing their first product, a Photoelectric Sensor, in 1972. Today, Datalogic is one of the largest manufacturers of sensor and safety products worldwide. Datasensor is the market leader in Italy for photoelectric sensors and safety light curtains, ranking among the top-10 manufacturers in Europe by market share. Datalogic's Sensors and Safety portfolio solves customer applications in Factory Automation, specializing in Processing and Packaging machinery, and Automated Material Handling Systems related to Manufacturing Industries such as Automotive, Electronics, Pharmaceutical, Food & Beverage, Paper and Printing, Woodworking, Ceramics, Glass, Textiles etc.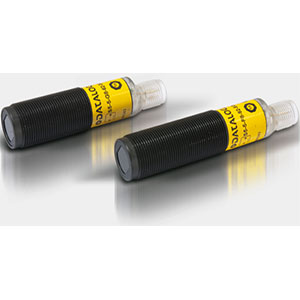 Light Beams & Controls
Datalogic SG-BWS Safety Units are ideal for safety systems that include S5, SL5 or S300 single beam sensors, as well as more complex systems, involving safety light curtains and muting sensors, due to their integrated functions and DIP switches. SG-BWS-T4: control unit equipped with 16 clamps that can connect from 1 to 4 photocell couples of Datasensor S5-ST, SL5-ST, S300 series with OSSD safety outputs; SG-BWS-T4-MT: control unit equipped with 48 clamps that can connect from 1 to 4 photocell couples of the S5-ST, SL5-ST, S300 series and concurrently with up to 2 safety light curtains equipped with safety outputs activated with two 230V relay.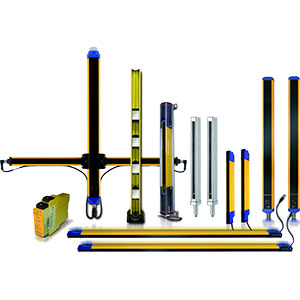 Light Curtains
Datalogic safety light curtains are optoelectronic multibeam devices that are used to protect working areas that, in presence of machines, robots, and automatic systems in general, can become dangerous for operators that can get in touch, even accidentally, with moving parts. Datasensor light curtains are intrinsic safety systems used as accident-prevention protection devices and are manufactured in accordance with the international Standards in force for safety. Datalogic safety light curtain for Industry 4.0. Direct Connection with high-performance network and PLCs makes it possible reduction of wiring, seamless integration in the safety system for advanced safety functions, easy configuration and maintenance, automated diagnostics.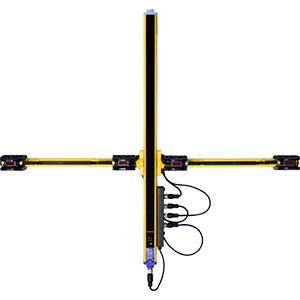 Safety Accessories
Datalogic Safety Accessories include Mirrors, Protective stands, Protective slits, Safety module, Safety relay, Muting box, Muting arms, Muting lamps, Laser pointer, Brackets.