Gearboxes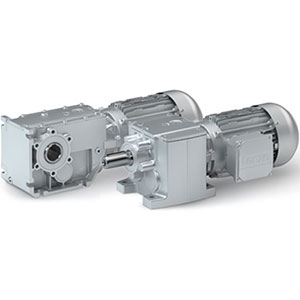 Lenze gearbox can be used in a wide variety of applications and are functionally scalable. Thanks to their modular design and high power density, extremely compact types of construction are possible. Lenze's range of products includes industrial geared motors in power ranges up to 45 kW, which can easily be adapted to the necessary process parameters thanks to finely graduated gear transmission ratios. The high level of efficiency of Lenze gearboxes ensure an optimized drive package that meets very high requirements. One single motor alone is not a universal solution to all applications. After all, many applications require low speed and high torque, and your machine may need a right-angle drive. The robust, efficient industrial Lenze gearboxes can handle even the toughest of machine tasks. If you require couplings, locking bushes or other drive elements for your machine, you are sure to find precisely the right products for your requirements in our scalable product portfolio.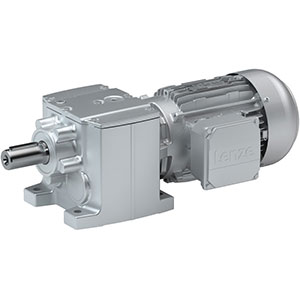 Axial
Planetary, helical and shaft-mounted helical gearboxes are used in numerous industrial applications to produce an axial torque transmission. For extremely accurate and high torques requirements for high-tech applications, planetary gearboxes are always the right choice. Lenze helical gearbox comes into its own in numerous industrial applications as a universal and robust gearbox. Pluggable shaft-mounted helical gearboxes are also suitable as a space-saving alternative, for example in a storage and retrieval unit when the machine structure needs to be as narrow as possible.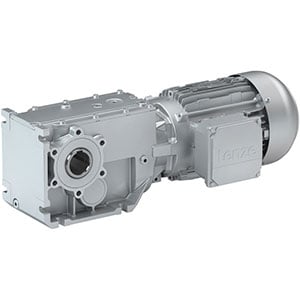 Right Angle
As robust right-angle gearboxes, Lenze bevel gearboxes are perfectly suited to roller conveyors. The same applies when it comes to precise operation at the workstation. This has meant that the bevel gearbox, with its numerous advantages, is now an integral part of most applications. Helical-bevel gearboxes or helical-worm gearboxes can be used as an alternative, although these are often less efficient or considerably larger.