Littelfuse

SymCom (Littelfuse & SSAC) history of innovation, proven technical expertise and the industry's broadest and deepest portfolio of circuit protection products enable us to provide objective, comprehensive solutions for each customer's unique needs. SymCom, Inc. manufactures voltage monitors, current monitors, load sensors, alternating relays, overload relays, intrinsically-safe relays, communication modules, remote monitors, software and custom controller boards for AC motor, compressor and pumping control and protection applications. SymCom, Inc. leads the industry in electronic motor control and protection. Under the brand names MotorSaver and PumpSaver, SymCom products are designed to monitor the power supply to protect single-phase and 3-phase compressors, pumps and other motors from damaging power conditions such as high voltage, low voltage, voltage unbalance, single-phasing, phase reversal, overcurrent, undercurrent, current unbalance and Class II ground fault. This includes pump underload and overload conditions more commonly referred to as dry-well, dead-head and jammed-impeller situations. Most of SymCom Motor Saver & Pump Saver products are UL and CSA approved and several are now CE certified as well. SymCom's future is one of continued growth and expansion as Littelfuse continually strives to meet SSAC customers' needs and expectations.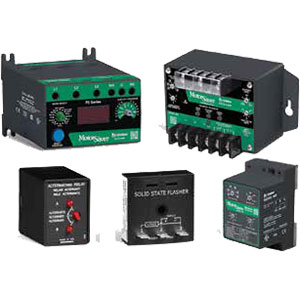 Protection Relay/Control
SymCom/SSAC/Littelfuse protection relay and control product portfolio includes a comprehensive line of motor and pump protection relays, arc-flash relays, ground fault relays, feeder protection, pump controllers, time delay relays, flashers and tower lighting, and more to minimize electrical safety hazards, limit equipment damage, improve productivity, and safeguard personnel from injury due to electrical faults.