Motor Protection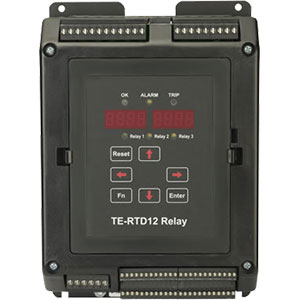 Motortronics offers a full line of IEC and NEMA rated overload relays to provide motor overcurrent protection. Overload relays include fixed bimetallic, interchangeable heater bimetallic, and electronic. Flexible mounting ensures that they can be installed on a contactor, panel, or separate enclosure.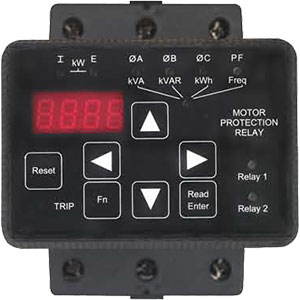 RX Series
Take your motor protection to a new level. Motortronics RX Series provides more than just solid state overload or power protection relays. By using features previously found only in large expensive Motor Protection Relays, the RX Series allows even small to medium sized motor applications to be protected by the best technology available, yet at a price affordable to all. The RX Series uses Thermal Modeling software normally found only in the most sophisticated Motor Protection Relays. This software keeps track of power related issues occurring in the motor circuit that contribute to causing a thermal overload. If there is a power loss, a unique combination of non-volatile memory and a real-time clock ensure that this protection is in effect when power is restored.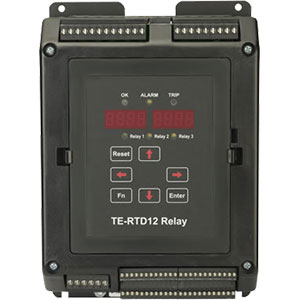 TE-RTD12
Motortronics TE-RTD12 Relay device adds advanced RTD (Resistor Temperature Detector) and differential current monitoring capability to your new or existing motor system. The TE-RTD12 Relay device offers 12 built-in RTD inputs, 3 programmable output relays (5A), 2 isolated analog inputs (4-20mA), 1 isolated analog output (4-20mA), 3 isolated digital inputs, and differential current feedback monitoring. Additionally, an RS485 (2 wire) communication port is available for use with a master device (PLC / SCADA / Operator Interface) for the purpose of programming and/or monitoring. Programmable relay outputs are provided that can be configured for a system function or for use as a global Alarm or Trip based on temperature readout, which can be entered in °C or °F. The TE-RTD12 Relay device can be mounted on a back panel using the mounting bracket or DIN-Rail mount.