Red Lion offers the broadest range of cellular M2M routers and RTUs available on the market today. Featuring standards-based, enterprise-class capabilities, our cellular routers and RTUs enable secure, reliable data access, anywhere, anytime.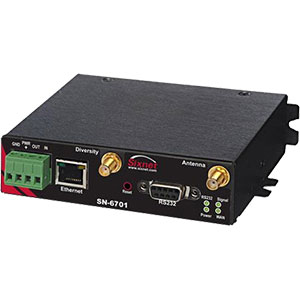 Routers
Red Lion's Sixnet® series IndustrialPro® SN-6000 cellular routers offer secure and reliable remote connectivity to deployed assets that utilize cellular carrier networks. Ideal for harsh environments, our rugged industrial routers provide easy wireless communication between SCADA servers, RTUs, PLCs, remote I/O and other Ethernet and serial connected devices such as security cameras or industrial sensors. IndustrialPro cellular routers support the latest 4G LTE networks with fallback to 3G networks from leading global cellular carriers. This gives customers the flexibility to choose from a host of carriers that serve different locations. Red Lion's IndustrialPro cellular routers are available with multiple port configurations that include up to five 10/100Base-T(X) Ethernet ports. They also feature one RS-232 port and support for Serial-to-IP communications. Designed to deliver secure communications to remote locations, our industrial cellular routers support robust security features such as VPN tunnels, port forwarding, stateful firewall, packet filtering, data encryption and an Access Control List (ACL). IndustrialPro cellular routers can be managed locally through direct device connection or remotely via SixView Manager® software. Our flexible remote management software package is designed to increase productivity and reduce costs for organizations using Sixnet series industrial cellular routers. With a web-based console and customized dashboard, users are able to remotely access, configure and manage critical device information from a central location.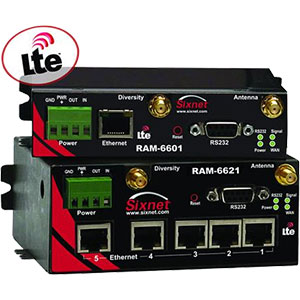 RTUs
Red Lion's RAM® 6000 and 9000 industrial cellular RTUs provide a secure all-in-one platform to remotely connect, monitor and control assets across industries that include utilities, oil, gas and water/wastewater. By seamlessly connecting to existing Modbus or DNP3 enabled devices such as PLCs and other remote equipment, our industrial cellular RTUs provide instant access to data from pumps, valves, reclosers, transformer capacitor banks and meters.