Communication between devices from different manufacturers can be difficult but Red Lion takes the hard work out of protocol conversion by supporting more than 300 industrial protocols. Communicating with Allen-Bradley, ABB, Schneider and Siemens equipment is a breeze using Crimson®'s drag-and-drop mapping functionality. Red Lion offers the industrial industry's only protocol conversion and data-acquisition system that communicates data to your PLC with a few simple clicks.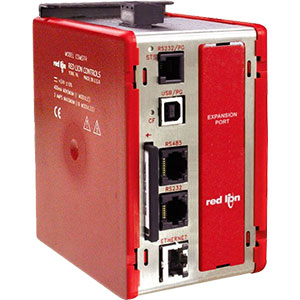 Data Station Plus
Red Lion Data Station Plus (DSP) was designed to act as a nexus for industrial data collection and management. The unit offers multiple protocol conversion, data logging and remote machine access. With three built-in serial ports and a 10/100Base-T(X) Ethernet port, the unit performs protocol conversion to enable seamless communication between disparate devices. The Ethernet port supports up to four protocols simultaneously so even Ethernet to Ethernet protocols can be converted. The DSP comes standard with one 10/100Base-T(X) Ethernet port, two RS-232 and one RS-422/485 serial ports, and one USB device port. Additional communication options include CANopen, Devicenet and Profibus, which are all available via a plug-in option card for all models except the DSPLE. Communicating with over 300 different protocols, the DSP is the most powerful communication platform available today. It can manage multiple-vendor applications and provide the ability to network-enable existing equipment. Select the PLCs, drives, motion controllers or PID controllers that work best with each application, and control everything from one Red Lion DSP.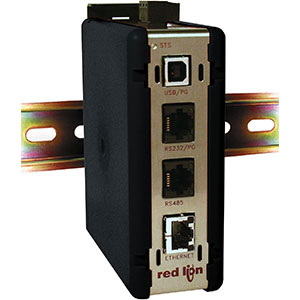 ICM8 Gateway
Red Lion ICM8 is designed to act as an ethernet gateway offering protocol conversion for Red Lion panel meters. With two serial ports (one RS-232 and one RS-485) and a 10/100Base-T(X) Ethernet port, the unit performs protocol conversion, allowing Red Lion panel meters to communicate seamlessly to the ethernet network. Programming the unit can be accomplished via the RS-232 or the USB port using Crimson® software. It is important to note that this device is designed to function with Red Lion panel meters and will not offer protocol conversion if a Red Lion product is not connected to a serial port. The ICM8'S DIN-rail mounting saves time and panel space and snaps easily onto standard top hat (T) profile DIN rail.