Drives
Toshiba Motors & Drives division offers a full range of low and medium voltage motors and adjustable speed drives. These products, hallmarked for quality, performance, and durability, can be customized to meet the most demanding applications.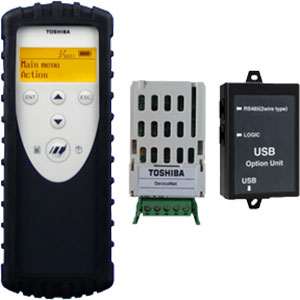 Accessories
Toshiba offers a wide range of accessories for our adjustable speed drive product offering. From countless communication cards to a variety of touchpads, our accessories can be seamlessly integrated into any of our adjustable speed drives for your specific network and installation requirements. Toshiba offers a variety of accessories to help adjust our products to the customer's needs such as different style remote keypads, line reactors, dynamic braking resistors, flange kits, conduit boxes, custom enclosures, and more.
HVAC
Toshiba provides low voltage adjustable speed drives that are specifically designed for HVAC systems, offering complete and simple control of your fan and pump applications. Our drives feature compact enclosures with reactor-less, harmonic-suppressing technologies and built-in filters. This saves time, wiring costs, and installation space, which are all critical factors for an HVAC system. In addition, our drives are equipped with numerous safety features and communications for easy maintenance and to help protect your drive and system from common HVAC anomalies.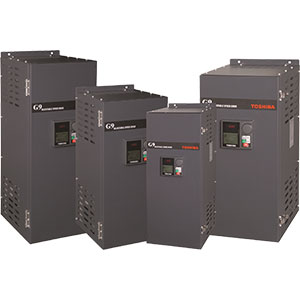 Low Voltage
Toshiba entered the North American adjustable speed drives market in 1981 and has continued to grow the market with our products. By following the most stringent standards, our drives are recognized and proven to exceed the requirements for virtually any industry, application, and environment. Today, we produce award-winning drives that are suitable for virtually any industry, application, and environment. Many of TIC's adjustable speed drives are engineered, manufactured and designed in our Houston headquarters to allow for efficient feedback from customers and end users towards the design of the drives.