HVAC
Toshiba provides low voltage adjustable speed drives that are specifically designed for HVAC systems, offering complete and simple control of your fan and pump applications. Our drives feature compact enclosures with reactor-less, harmonic-suppressing technologies and built-in filters. This saves time, wiring costs, and installation space, which are all critical factors for an HVAC system. In addition, our drives are equipped with numerous safety features and communications for easy maintenance and to help protect your drive and system from common HVAC anomalies.
Q9
Toshiba Q9 adjustable speed drive is a solid-state AC drive designed for commercial variable torque applications such as fans and pumps for VAV systems, cooling towers, and pump systems. The Q9 features a multi-functional LCD display that provides a programming interface, monitoring display, and operation mode. The Q9 provides protection against drive overload, motor overload, overvoltage, and ground faults, to name a few. These features make the Q9 suitable for a wide variety of applications that require reliable motor control.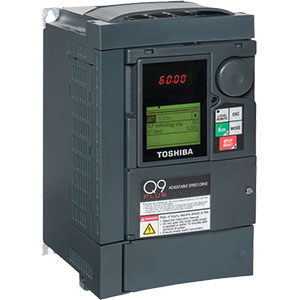 Q9 Plus
The Toshiba Q9 Plus adjustable speed drive is a revolution in pump control. By incorporating Toshiba's proprietary, ground-breaking Virtual Linear Pump (VLP) Technology, the Q9 Plus directly, precisely, and linearly controls pressure, level, or flow. This eliminates many obstacles users thought were an integral part of pump control and sets a new standard in ingenuity, performance, and ease-of-use for the pump industry.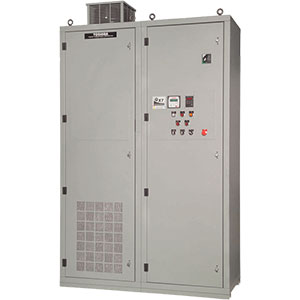 QX7
The Toshiba QX7 adjustable speed drive is designed for HVAC applications where harmonic content is critical to the power grid. The QX7's patented 18-pulse design is the most sensible solution for the high demands of the HVAC industry, eliminating the need to add other filters and costly isolation transformers.