Modular I/O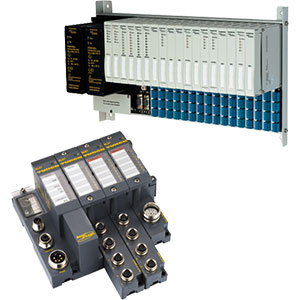 TURCK panel or machine mounted expandable I/O for placing control at the point of use, available in a wide range of industrial communication protocols. TURCK in-cabinet (IP20) modular I/O is a cost-efficient networking solution that is used in an enclosure and designed to replace terminal blocks with intelligent I/O. Providing flexible communication capabilities, TURCK in-cabinet modular I/O allows operators to mix and match I/O interfaces and adapters, including digital inputs, digital outputs, analog I/O and RFID. For enhanced performance, in-cabinet modular I/O offers significant space savings with up to 32 I/O on a single card. Modules are ideal for applications with large quantities of I/O, including packaging, conveying and general manufacturing. TURCK on-machine (IP67) modular I/O does not require an enclosure, allowing it to be mounted directly on the machine. TURCK on-machine modular I/O offers quick connection and flexible performance.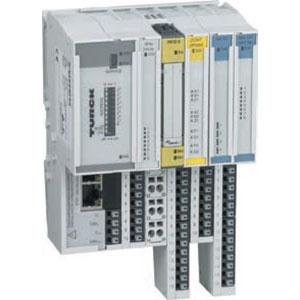 BL20 IP20
TURCK BL20 system is an IP20 Modular I/O system designed for remotely collecting I/O signals. In comparison to costly and time-consuming historic approaches that brought I/O signals back to a single large cabinet, BL20 uses multiple small cabinets placed near the I/O that they control - providing a flexible, modular solution that saves time and money. Providing enhanced communication flexibility, the BL20 seamlessly mixes and matches I/O types, communication networks, connection technologies and package styles to meet any project needs.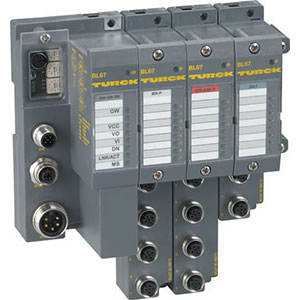 BL67 System
TURCK BL67 system is a completely modular and connectorized I/O system. With IP67-rated protection, the BL67 is rugged enough to be mounted directly on the machine, while flexible enough to handle all of the various I/O signals in the field. Enabling operators to create a unique and custom solution for diverse applications, the BL67 system allows use of any fieldbus gateway with any I/O module, in addition to multiple connectorized bases, depending upon the application.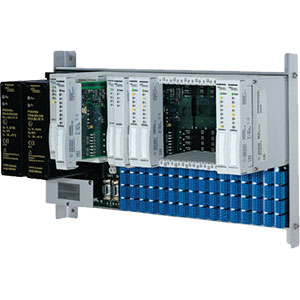 excom
TURCK excom remote I/O system is ideal for use in hazardous or non-hazardous locations. The system provides bus-compatible, decentralized input and output connection modules with a protection rating of IP20 for connection of binary and analog intrinsically safe field devices. Explosion protection enables use in zones 1 and 2.