Unmanaged Switches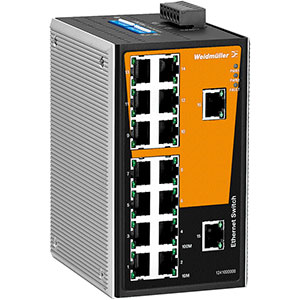 Switches are the basic coupling elements in Ethernet networks. They connect the Ethernet participants together. In an Ethernet network the communication basically originates from the participants. The switches connect the participants together and enable the communication. Weidmuller unmanaged switches are the simplest active network component. They do not need to be configured and are therefore very flexible. They use the basic standard protocols, such as auto-negotiation, auto-crossing, and flow-control and can automatically adjust to the different transmission speeds or connector wiring. Unmanaged switches are protocol transparent. Each port on the switch creates an individual collision domain. The use of twisted-pair cabling with an RJ45 interface or fiber-optic cable based on the IEEE 802.3 specification interfaces are supported by all Weidmuller switches.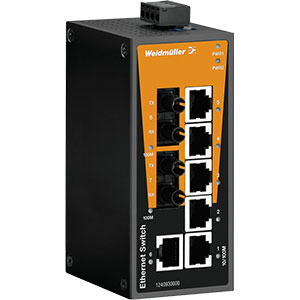 Basic Line
Weidmuller's Basic Line series consists of unmanaged Plug & Play switches in a rugged IP 30 rated aluminium housing. The devices are available with Fast Ethernet and Gigabit Ethernet and provide an economical solution for Industrial Ethernet networks. One model is equipped with Fast Ethernet and Power-over-Ethernet ports. All devices have been developed for applications in harsh industrial environments and have international approvals such as CE, cULus, Class I Div. 2 / Atex and DNV / GL and are thus internationally available for different applications.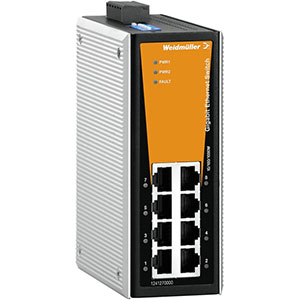 Value Line
Weidmuller's Value Line series consists of unmanaged and managed switches in a high quality IP 30 rated metal housing. The devices are available with Fast Ethernet and Gigabit Ethernet ports. Weidmuller Value Line managed switches support a variety of useful management functions, such as fast ring redundancy, VLAN, QoS, RMON, bandwidth management, port mirroring and warning by email message or relay. The ring redundancy can be set up easily using the web-based management interface, or with the DIP switches located on the top panel of the switches.