Temperature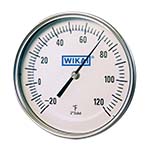 The WIKA product portfolio includes electrical, mechatronic and mechanical temperature measuring instruments. A comprehensive range of standard products and special instrument designs can be offered to meet your individual requirements.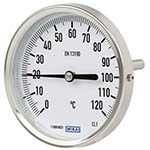 Dial Thermometers
WIKA Dial Thermometers work on the bimetal, expansion or gas actuation principle. This enables scale ranges of -200 ... +700 °C (-328 ... 1,292 °F) in different class accuracies, response times and resilience to environmental influences. Diverse connection designs, stem diameters and individual stem lengths enable a flexible measuring point design. Dial thermometers with capillaries are particularly versatile. All thermometers are suited for operation in a thermowell if necessary.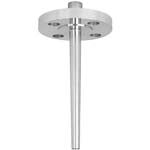 Thermowells
Thermowells from WIKA are used with demanding operating conditions both in solid-machined versions from solid-body material and in fabricated versions with tubular design. The variants offered differ mainly in their designs; with flanges, with threads for screwing in or for welding in. Furthermore, all connections for sanitary applications and also thermowells in solid-machined Vanstone design are available without weld seams. WIKA's selection of materials and the manufacturing of the thermowells in accordance with global standards or to customer specifications ensure optimal protection for the sensor.