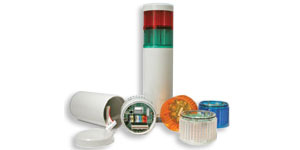 Do the pole mount Signalights come with the pole?

Yes, the pole and vertical surface mounting bracket are included with pole mount models. The pole base (for mounting on horizontal surfaces) is not included.

What NEMA (or IP) rating do the SignaLights and/or SLCs carry?

NEMA 1 and IP20. They are not water tight or dust-tight, only fingersafe.

Can I buy SLC components and assemble them myself?

Most SLC sub-components are not available as separate pieces and are not considered field modifiable. Lenses, lamps, and lens frames are available separately however.