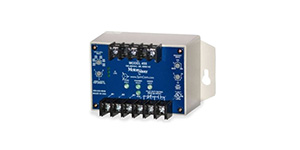 Panel builders and OEM equipment manufacturers must carefully review their electrical designs to determine if they require fuse protection on the input side of a
voltage monitor
.

Relevant design considerations include:

1. Does the voltage monitor require fusing to protect from internal component failures that result in a short circuit condition? (Note: This is usually determined by Underwriters Laboratories. Many products that require fuses will have "UR" symbols instead of "UL." This requirement will be stated in the engineering considerations provided with the UR'd product. These application requirements are not always clearly stated and product users should contact the manufacturer for clear application information).

2. Can exposed terminals on the voltage monitor be easily short circuited by service personnel that have inadvertently entered the enclosure without disconnecting power?

3. Has the product been installed consistent with the manufacturer's installation instructions, and mounted to comply with UL 508 section 18.2.1 and NEC Article 430?

4. Are there any special considerations for the panel or OEM equipment that would require additional fusing requirements? (Example: branch conductors are also used to power other equipment).

SymCom's voltage monitors are fully listed under UL's 508 standard. UL's 508 standard is harmonized with the National Electric Code Article 430. These products do not require input fuse protection that may be required with many other UR'd products.

Most of SymCom's voltage monitors have finger-safe terminal blocks, or protective terminal covers that significantly reduce the chance of service personnel inadvertently creating a short circuit. Manufacturers rarely advise servicing live equipment, but reducing this hazard is in the best interest of safety.

UL's 508 standard does not require additional branch short circuit protection for many conductors that are less than 12 inches in length from the power source*. Most of SymCom's products can accept 12 AWG wires to accommodate up to 120 amp branch circuit protections devices*. (*Consult with your UL advisor, UL 508 section 18, and NEC Article 430-72 for accurate compliance.)