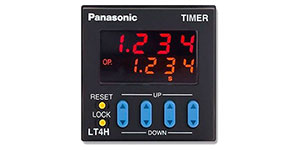 What's the substitute product for LT48 timers (part No.: ATL4***)?

PDX timer with type number of PDX-*C**-***** was discontinued. What's the substitute product?

The substitute is S1DX, and the type number is S1DX-A*C**-*****.

What size is the connection screw of the DIN-rail-mount terminal block for PM4H and LT4H?

The screw size is M3.5.

When I replaced QM48S in existing equipment with LT4H, it started to operate before setting a time in the power-on delay mode. What should I do?

In the power-on delay mode, time setting is impossible until the timer starts to operate.
To set the timer before use, turn the mode to the signal-on delay mode, have an external relay receive the power-on signal, and apply the external relay's contact closure signal to the signal input of LT4H. These procedures allow the same operation as QM48S to become available.