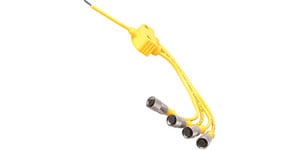 View this reference guide for more information on wiring Turck AC sensors in series.
Series Connection

The maximum number of sensors to be operated in series depends on the stability of the line voltage and the operating characteristics of the load in question. The supply voltage minus the accumulative on state voltage drop across the series connection (approximately 7 Vrms per sensor) must be greater than or equal to the minimum required load voltage.
Mechanical Switches in Series

Problem: Mechanical switches in series with proximity sensors should always be avoided because they can create an open circuit, leaving the proximity sensor without power. In order to operate properly, a proximity sensor should be powered continuously. A typical problem encountered when the mechanical contact closes while the target is present is a short time delay that is experienced before the load energizes (time delay before availability).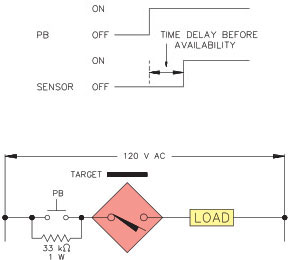 Solution: A 33 kilohm, 1W by-pass resistor can be added across the mechanical contact to eliminate the time delay before availability. This will allow enough leakage current to keep the sensor ready for instantaneous operation.