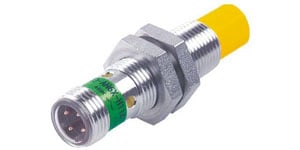 Read more below to see how your Turck NAMUR Sensors would typically be installed into your intrinsically safe application.
Typical Intrinsically Safe Installation

For guidance on installation of TURCK intrinsically safe systems, refer to the Instrument Society of America publication ISA-RP12.6-1995, "Wiring Practices for Hazardous (Classified) Locations Instrumentation".
The complete line of Intrinsically Safe and Associated Apparatus is featured in the TURCK "Isolated Barriers and Ampliers" catalog.
Custom Interface Circuits

NAMUR sensors can operate outside the nominal operating values when the sensor is used in a nonhazardous area.
The supply voltage limits are: Vmin =5VDC; Vmax = 30 VDC.
Within this voltage range the load resistance Ri must be adjusted for the supply voltage. The following table gives typical values:

If these values are used, the current Isn corresponds to the rated operating distance (Sn) of the sensor.
NAMUR sensors are short-circuit protected up to 15 VDC and reverse polarity protected up to 10 VDC.