Chromalox GRT Side Mount Heat Exchanger Metal Tube Heating or Cooling Coils
Chromalox GRT Side Mount Heat Exchanger Metal Tube Heating or Cooling Coils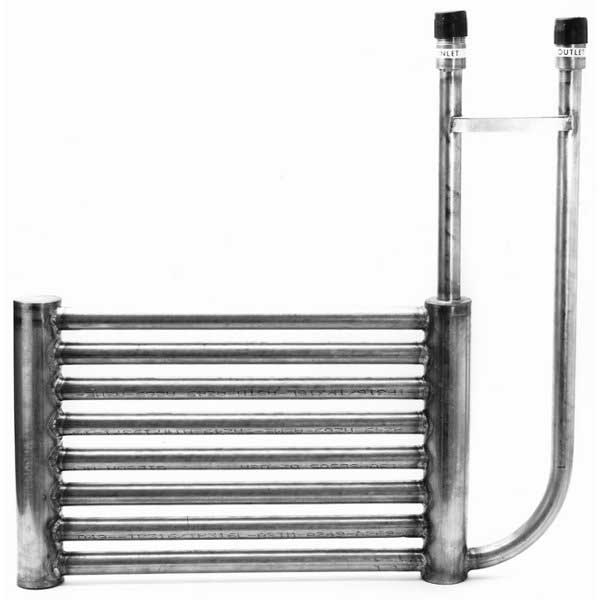 Product Type:

Tube Heater

Manufacturer:

Chromalox

Product Family:

Model GRT

Heater Application & Type:

Heat/Cool Exchangers - Side Mounted Tubes/Coils

No. of Elements:

28

Sheath Material:

Titanium

Surface Area:

60.2 sq. ft.
Chromalox GRT Side Mount Heat Exchanger Metal Tube Heating or Cooling Coils, 60.2 sq.ft. surface area, titanium sheath tubes, 100 psi max. pressure, 1" inlet/outlet, 96" long x 42" wide w/28 elements
Product Description
GRT Side Mount Heat Exchangers Metal Tube Heating or Cooling Coils
316 Stainless Steel Sheath Tubes
Surface Area (4.6 - 89.8 Ft²)
Features
8 - 28 Tubes
1" Inlet and Outlet
100 psi Maximum Pressure
Standoffs, Hooks and Hanger Straps, sold separately
Optional Surface Areas and Configurations available
Chromalox Over-the-Side Immersion Heaters are designed for installing in the top of a tank with the heated portion directly immersed along the side or at the bottom. This provides easy removal of the heater and ample working space inside the tank. Our commercial heaters are available with heating elements made of Copper, Steel, Stainless Steel, Cast Iron, INCOLOY®, Titanium, Fluoropolymer coated, and Quartz. A wide selection of kW ratings, shapes and mounting methods are available to suit many different types of applications.
Dimension Drawing